Kitchens are by far the most popular room in the home for remodeling and renovation. It can be the most fun and most challenging all at the same time because of the number of choices a homeowner can make regarding features, fixtures, appliances, materials, colors and textures. And all those choices can be overwhelming.
Avoiding the "trend trap"
Styles and trends come and go, especially in kitchens. Paints, textures, finishes, and cabinet styles change dramatically over the years and what was once popular and trendy can quickly look out of style and dated. The last thing you want is for someone to walk into your kitchen ten years from now and immediately think, "oh, this is so 2021."
As a design/build firm, our designers are always looking for ways to keep our kitchen designs looking both current and timeless. We counsel our clients to think about their kitchens holistically, as an integrated environment where all the elements work in harmony with each other.
We start by asking clients for inspirational photos – what have they seen that they've liked and why? Many often have a good idea of what they like, but a vague idea of what they want. By focusing on their likes, wants, and desires we help clients work through the process of discovery to ultimately achieve a kitchen they love and enjoy every day.
Kitchen design: Understanding the elements
As you begin the process of remodeling your kitchen, consider the individual elements and how, together, they affect the whole design.
Tile
Classic subway tiles are always popular, but colors besides white are starting to make appearances, keeping this look fresh and interesting. Tiles are a great way to bring in a splash of color, texture, and interest to small areas such as backsplashes behind stoves and sinks.
Cabinets
Cabinet styles can cause a kitchen design to sink or swim. Clean lines create a simple look that's ideal for transitional designs that a homeowner can take in any direction. Shaker doors are popular, with eased edges, no raised panels and a simple cove crown. Smooth paint finishes are a must – no distressing or shading.
Countertops
Marble, metal, granite, wood, quartz, and engineered materials such as Corian® all offer different looks and feels to create everything from an "authentic" farmhouse vibe, to a sleek, modern European look.
Colors
Color combinations enable you to create a unique look for your kitchen – from warm and inviting to colder and bolder. While white is always popular (more on that in a moment), there are several combinations identified as top choices across the country, including:
Whites and creams
Bold blue and white
Gray and white
Light blue or green and white
With all of this in mind, let's take a look at some designs that incorporate all these elements.
11 kitchen color schemes that will stand the test of time
It's no coincidence that the kitchen color schemes that follow feature white as the base color. White is the original classic kitchen design color scheme, going back to the 19th century when kitchens moved from a separate building outside the home to an interior room, integral with the rest of the house.
White is the workhorse of paint colors. Some experts say there are approximately 150 shades to choose from. Others say there are as many as 2000, if you're willing to include every slight percentage of tint. Each white has an undertone, or a tiny speck of color that is almost undetectable, but makes each white a nuanced, situational color, creating a variety of undertones such as red/pink, blue, yellow, and green/gray.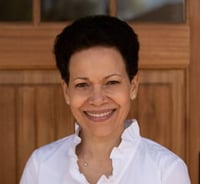 This enables a designer to mix-and-match other colors to accent – create "pops" of color — throughout the kitchen with walls, architectural features, and other structural elements. White, in the right hands, easily transcends design styles from modern to transitional, traditional, and rustic.
Watch the following video as Victoria Heydari, Mitchell Construction Group's Director of Design describes each of the 11 kitchens and the thought that went into the color choices and other details that made these kitchens so enjoyable for our clients.
1. Classic all-white kitchen
This kitchen features white everything: white island, countertop, cabinets, and backsplash. It's light crisp, clean, functional, with simple Shaker panels on the cabinets.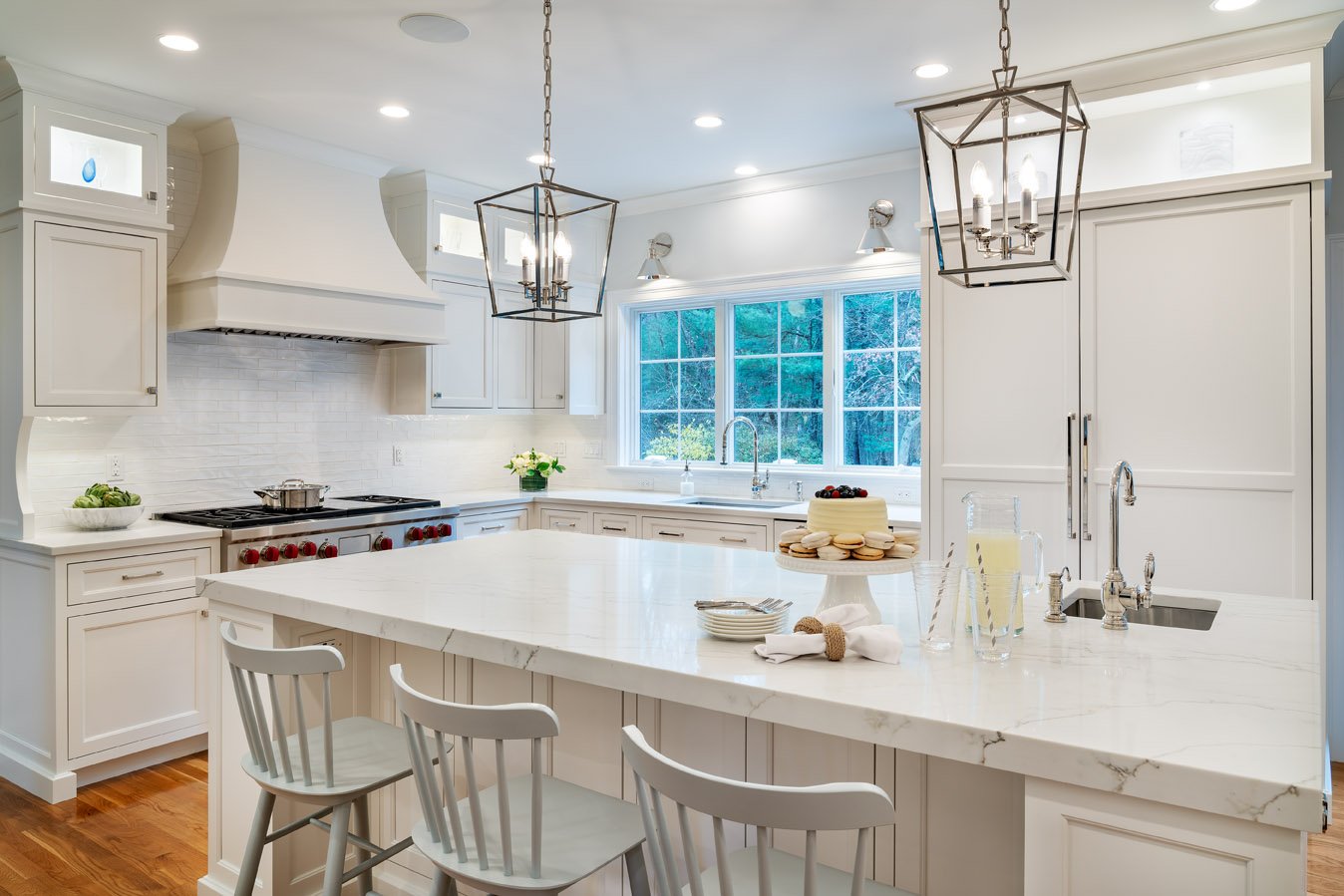 2. Traditional kitchen
Lightly-tinted white walls and shiplap ceiling are accented with a bold pop of rich blue on the island, all of which work well with the hardwood floor, tying in seamlessly with the great room and fieldstone fireplace.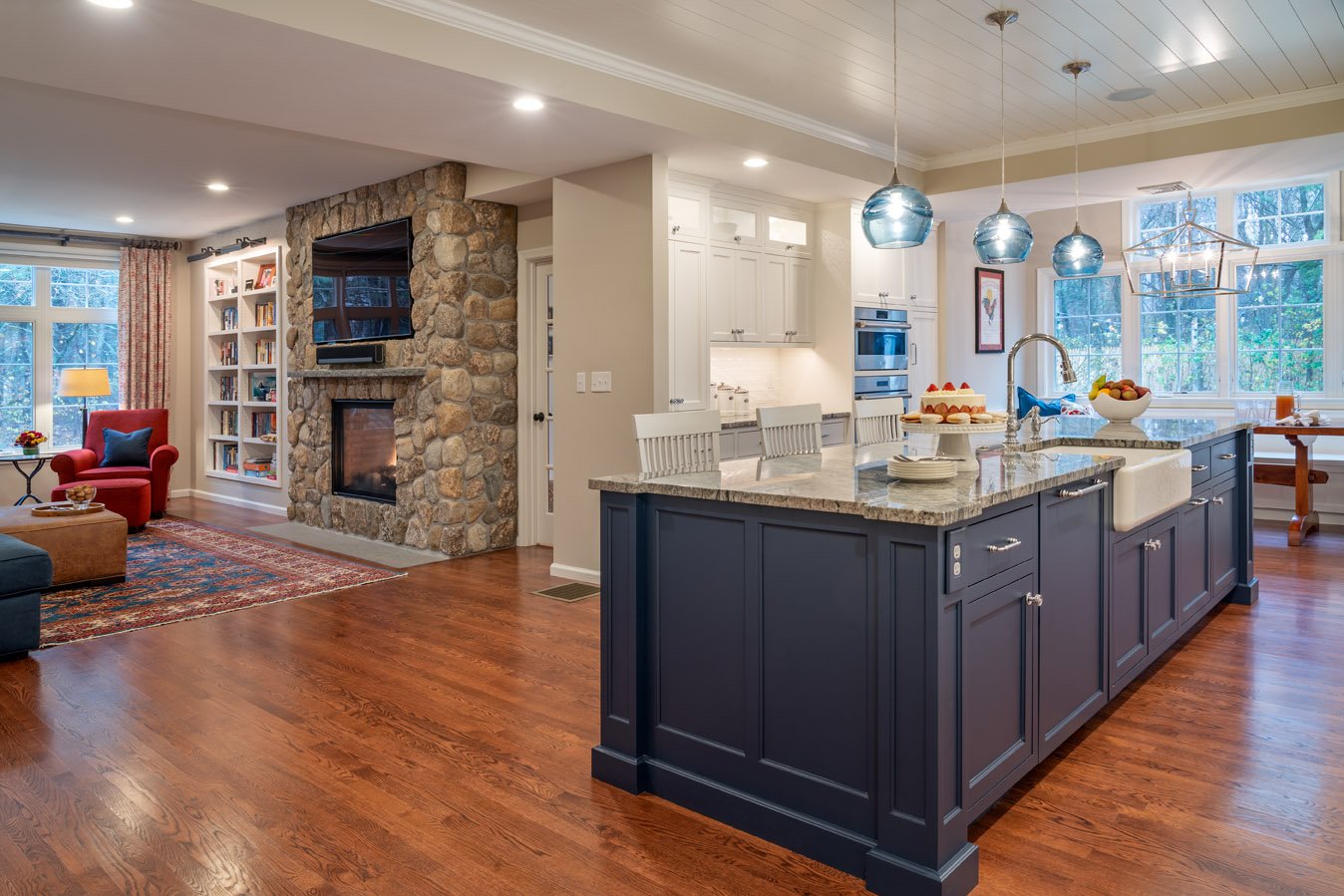 3. Transitional kitchen
All white, with a grey-tinted accent wall and lines that are clean, fresh, and functional, including a sleek, simple island top – light and bright. Red stools add a lively touch of color.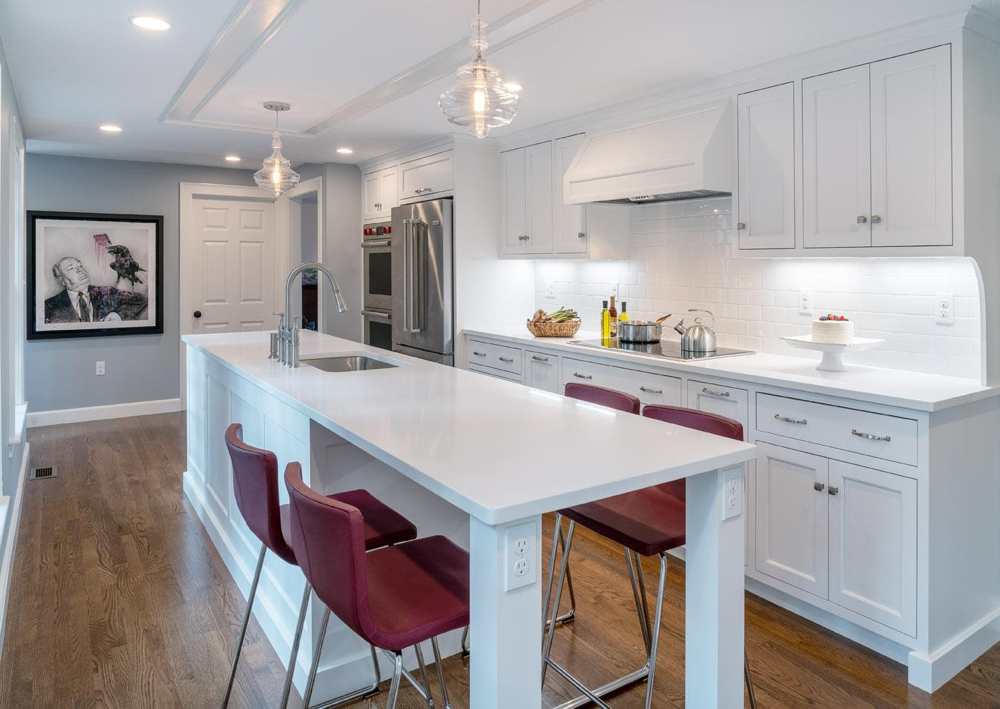 4. Transitional kitchen with accents
This color scheme offers unparalleled flexibility with basic white cabinets and a light, neutral grey island. It can be taken in very different directions, such as a more elegant one seen here with touches of satin gold in the light fixtures and hardware. By changing up the fixtures, island seating, and cabinet hardware it can easily pivot from traditional to something different.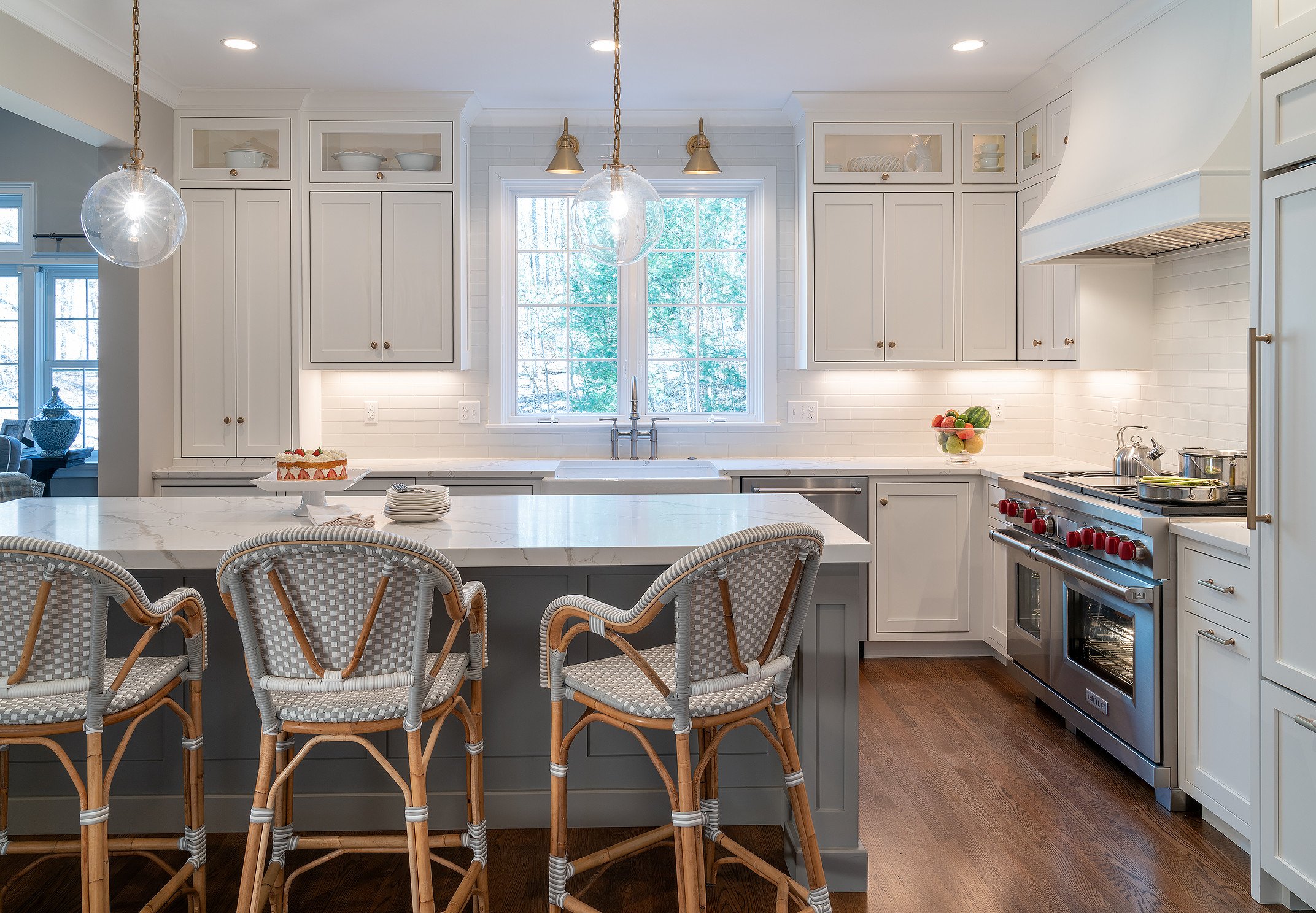 5. Transitional kitchen with a modern feel
This design features both classic and modern elements. A textured herringbone marble backsplash adds a classic touch while the white counter tops, sleek range hood, and modern seating keep it contemporary. The bright blue island anchors the visual appeal.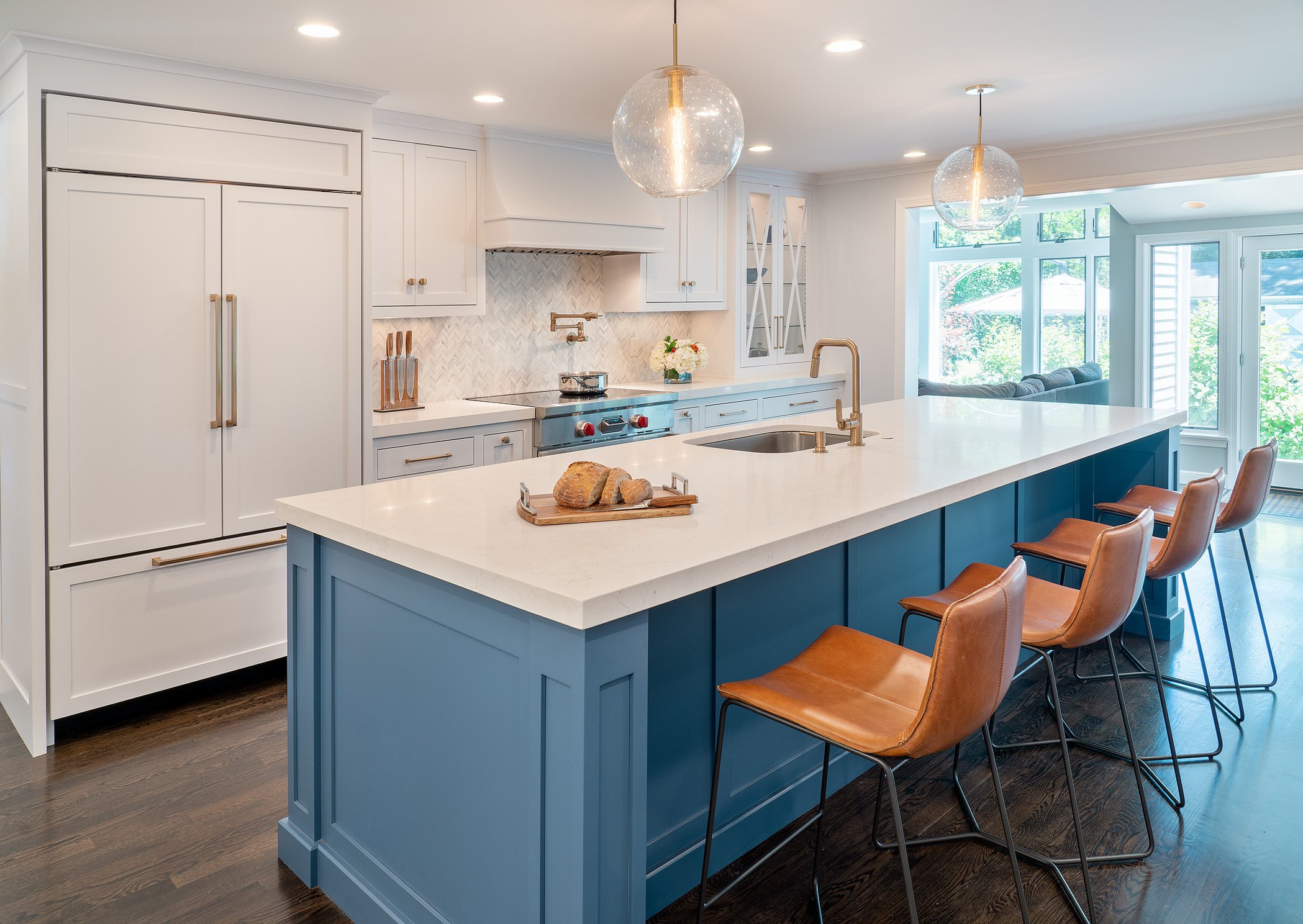 6. Transitional kitchen with a warmer feel
The dark-stained island and hardwood flooring add a nice, natural contrast to the white, lightly-tinted cabinets. To make the vibe even more natural and organic, the stools feature cane seats and curved wood backrests. A small mosaic backsplash adds to the warm feel and complements the island top and countertop.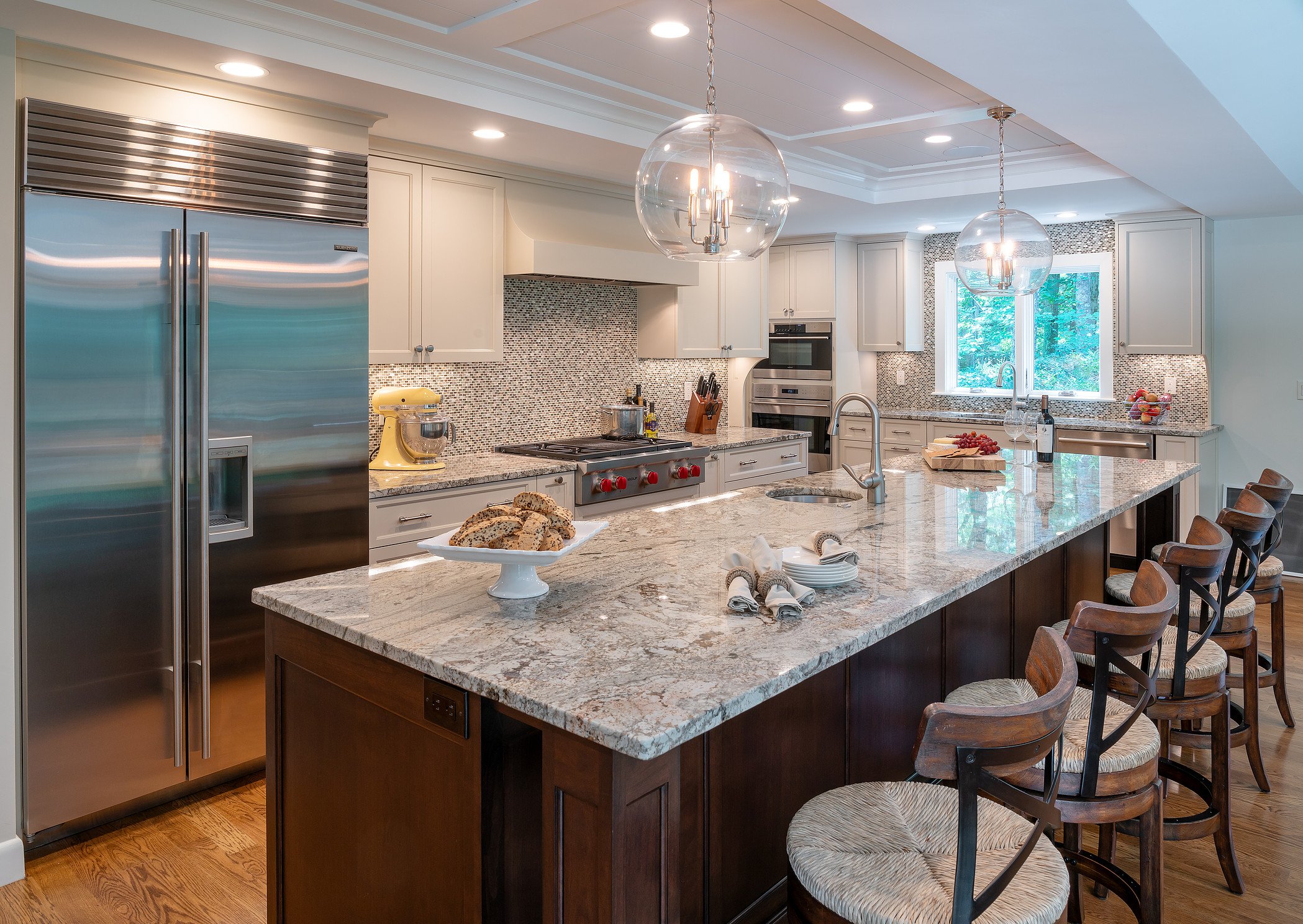 7. Two-tone transitional kitchen
This design features a dramatic grey-and-white contrast between the two sides. The island and hutch/cabinets on the right are a rich, medium gray, balanced by the white countertops and cabinets on the left with a light grey backsplash just to add a little "weight." It's all tied together with a light grey floor.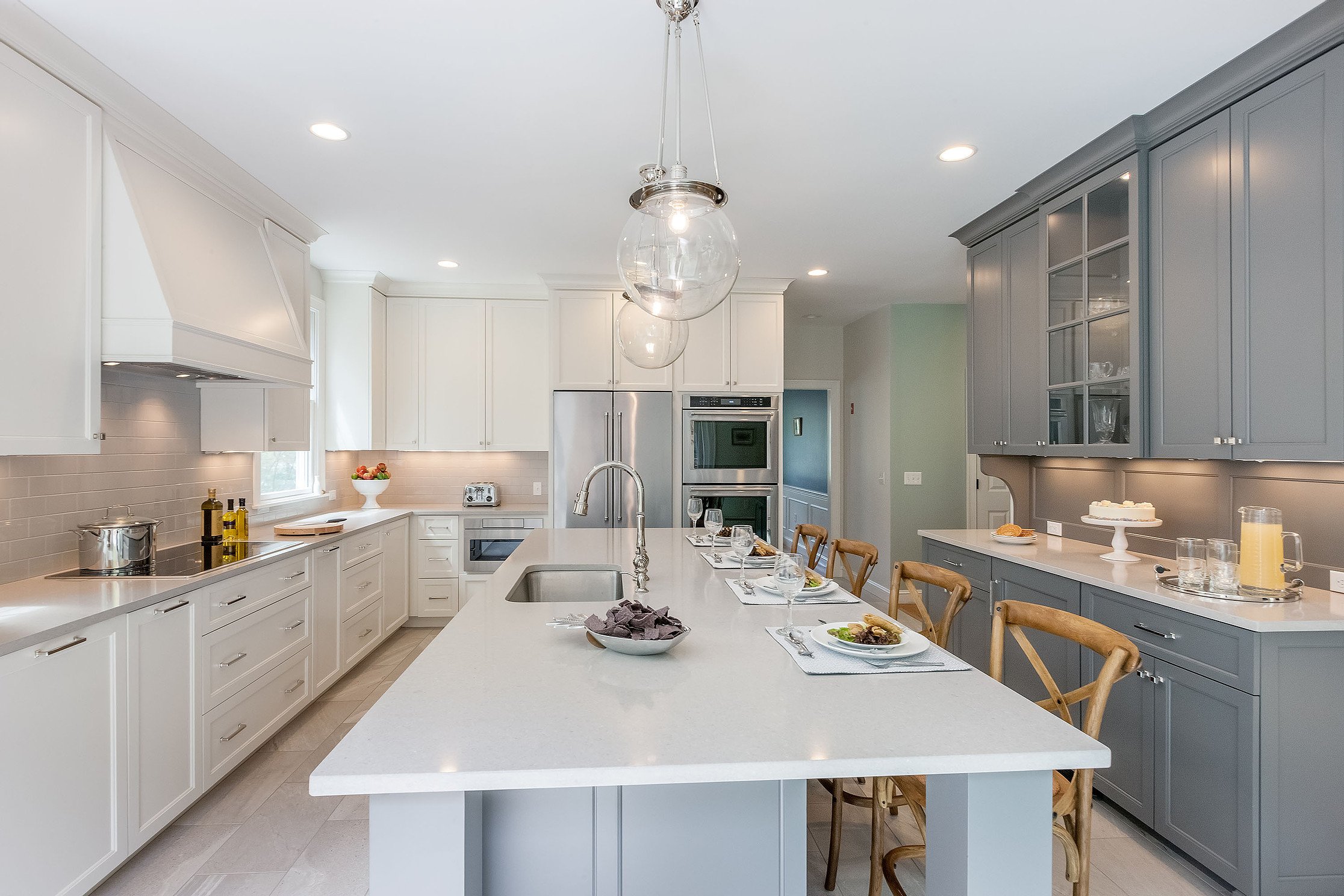 8. Classic traditional kitchen
This more formal kitchen features a white perimeter with a stained island, mixing the transitional with the classic. An extra-thick quartz countertop on the island helps anchor the look with traditional classic style. Brushed chrome pedestal stools add a modern touch, enabling the homeowner to take the kitchen in a variety of directions with just a few changes.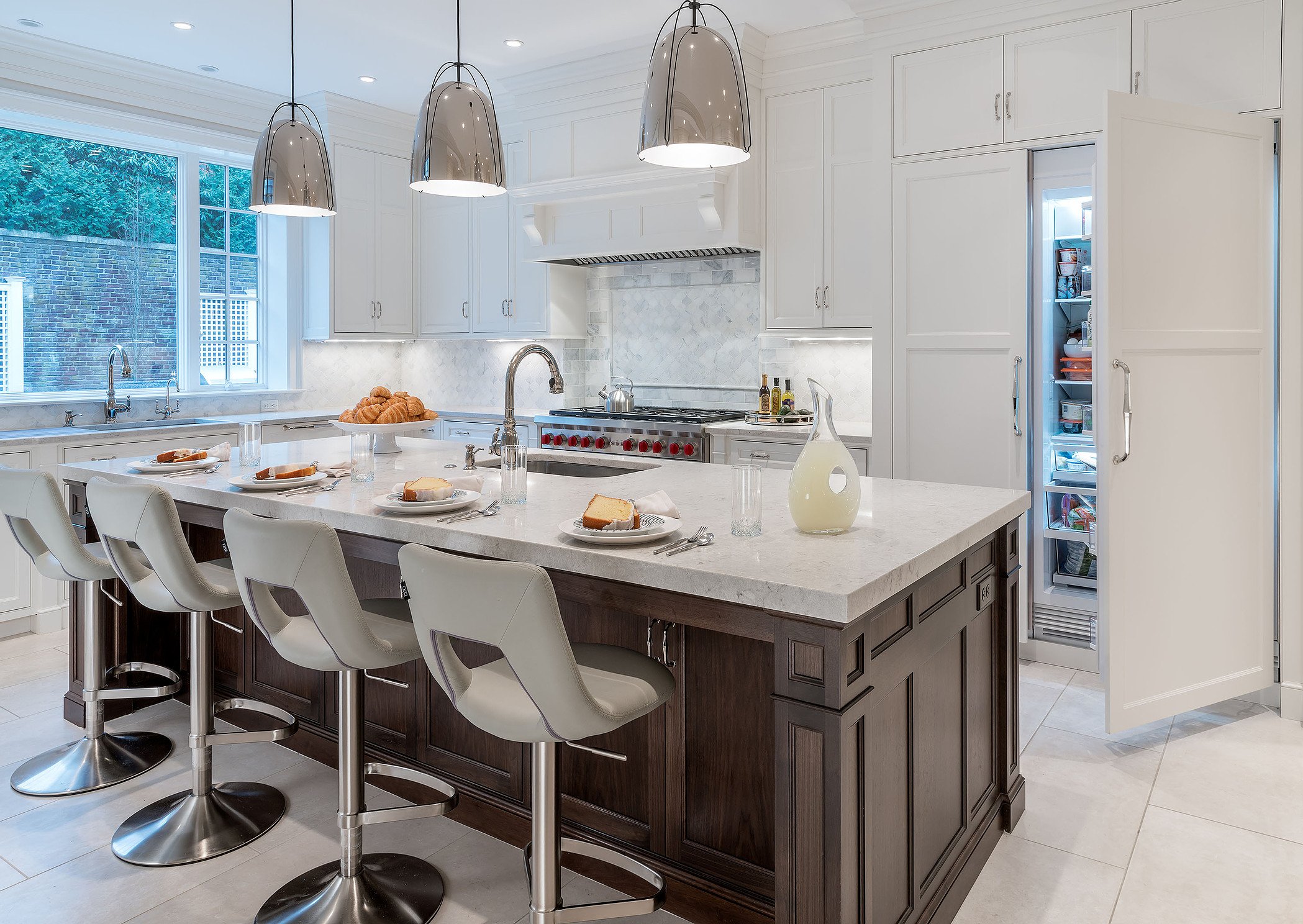 9. Country/cottage kitchen
A deep farm sink, simple wooden stools, and hardware floor help accentuate the cottage feel of this design. The light green island and walls, accented with green wall tile contribute to the light-and-fresh, back-to-nature look.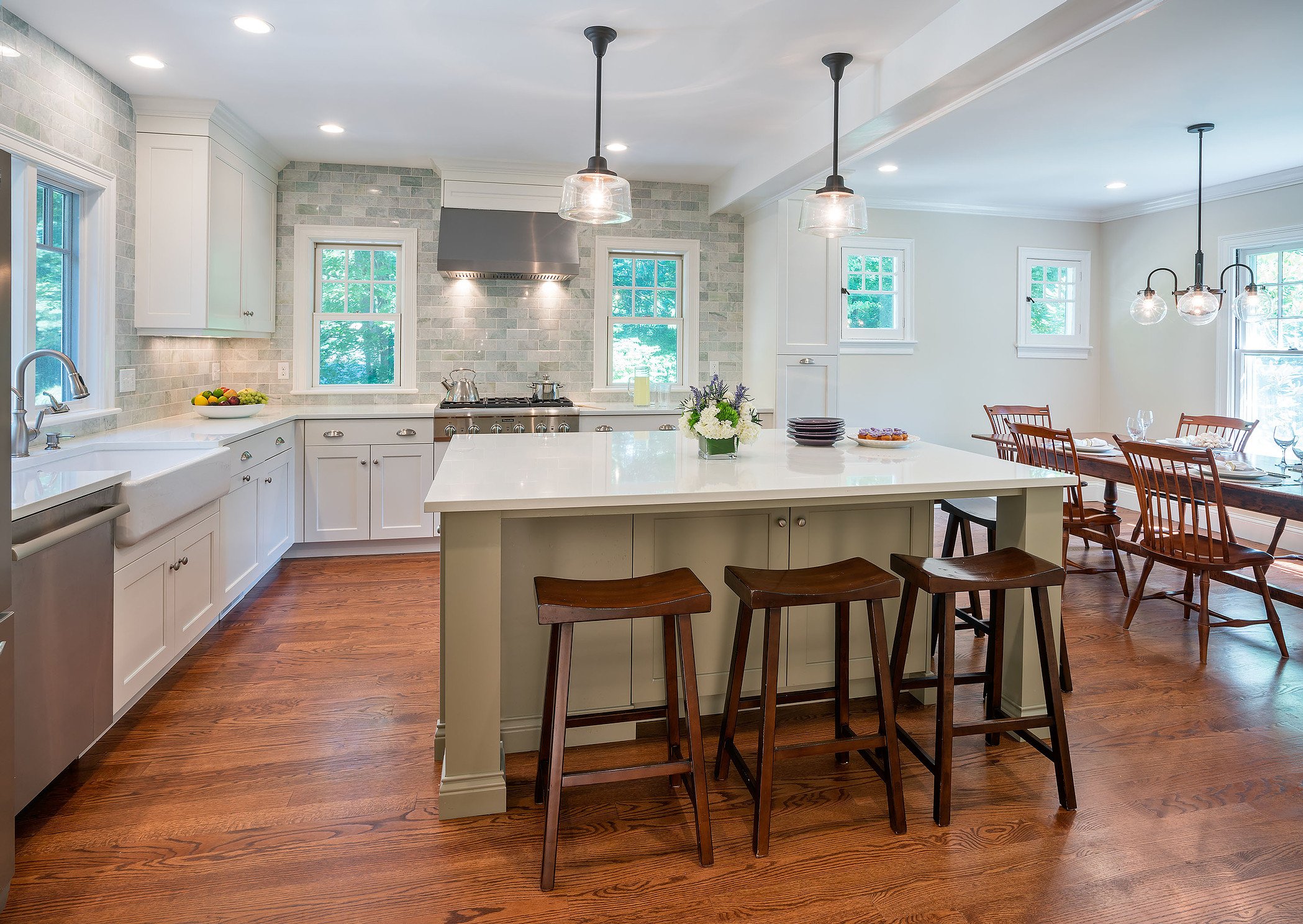 10. Transitional kitchen with firehouse pops of color
Ordinarily, an all-grey kitchen like this might seem dull, but the bold pops of fire engine red in the oven, the stools, the window treatment, and even the accent bowls on the shelf liven it up. It shows how a little color can make a lot of difference.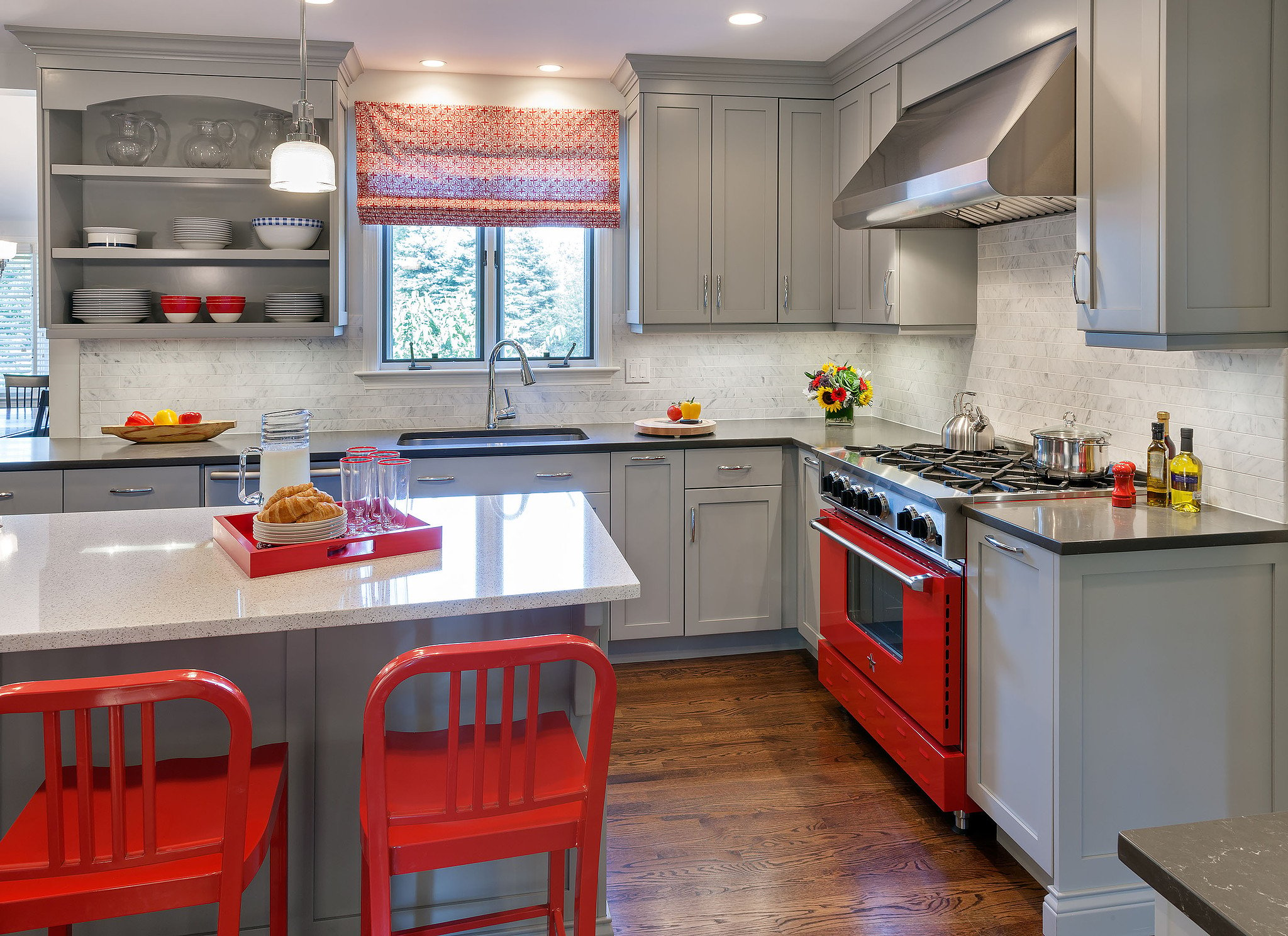 11. Traditional kitchen with a formal look
Classic stained cabinetry with lots of moldings and architectural details combine for a solid formal look, lightened up a bit by a white island and light countertops. The simple lines of the Shaker doors give it a timeless style that will still look contemporary years from now.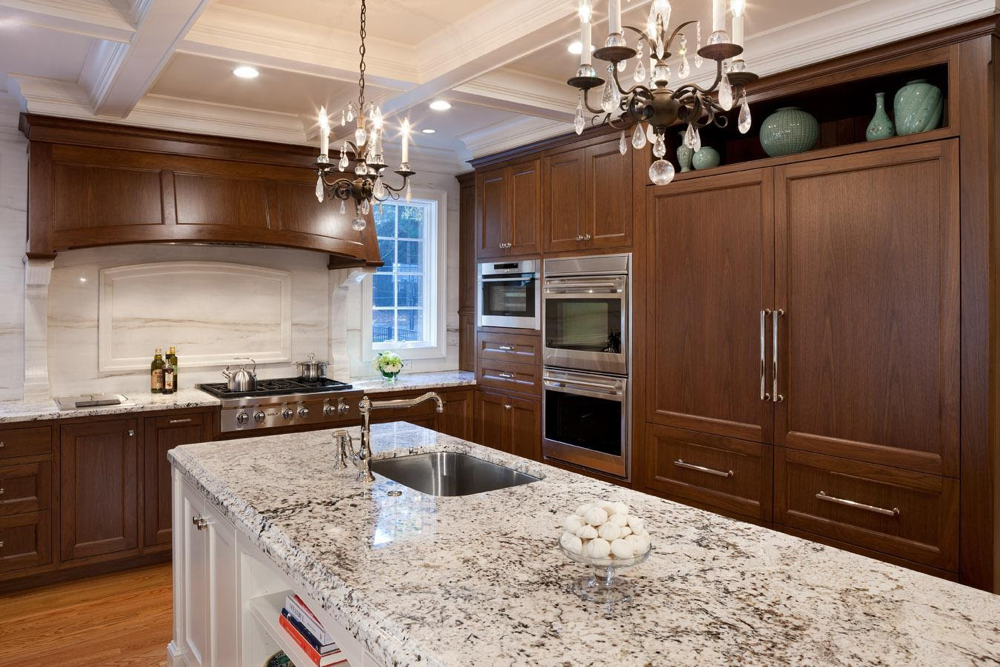 Pulling it all together
How you bring all of the elements of a kitchen together is one of the most important elements of kitchen design. It's one thing to incorporate a splash of color here and an interesting feature there, but quite another to seamlessly integrate colors, design elements, touches of texture, and more to create a harmonious look that's uniquely yours. And that's where an experienced, expert kitchen designer comes in.
Our kitchen designs clearly stand out from the more standard designs commonly seen elsewhere. In fact, our designs are so timeless and well-balanced they're known throughout the industry simply as "Mitchell Kitchens." Contact us to learn more and to start discussing your new kitchen.