A luxury bathroom may seem more like a necessity these days. As the pandemic forced many of us to stay at home for long periods of time, the bathroom became a sanctuary, a place to recoup with a long soak in a hot tub. It also gave some homeowners the opportunity to take a closer look at their existing bathroom and assess what works well and what doesn't and consider a bathroom remodeling or renovation project.
Clients now expect a thoughtful execution big on functionality as well as beauty, which translates into more subtle colors; more storage; open, walk-in showers for greater accessibility and ease-of-use; and floor-to-ceiling glass for drama as well as improved visibility. Features such as floating vanities and large tiles help to create a more expansive atmosphere, especially in smaller spaces. Beauty will always be a goal in spa-like bathroom design, while ensuring that luxury does not compromise functionality.
Bathroom elements homeowners want
Higher-end hotels have put a lot of thought and research into bathroom design to pamper customers and gain a competitive edge in a highly-competitive industry. That may explain why so many bathroom renovation clients express an interest in making their bathrooms more "like a nice hotel" to create a more enjoyable experience.
There are a number of new bathroom features that have become popular in response to current trends in design as well as enhanced, pandemic-inspired hygiene:
More touchless features such as faucets, switches, and toilet seats
Open, multifunctional showers featuring steam systems and integrated benches
More spa-like, relaxation-focused designs
More practical and discrete storage to keep surfaces clean and clutter-free
More technology to improve lighting, safety, and comfort
Bathroom design remodel ideas
Today, the bathroom has moved front and center as the must-have remodeling project for many homeowners interested in rethinking and updating their homes. No longer an uninspiring space relegated to just personal hygiene, a custom bathroom can be an energizing as well as contemplative personal spa that will enable you to relax, rejuvenate, and get ready to face the world again.
Tiles for bathroom design have been growing in popularity as a design element that provides plenty of room for creativity. We like to run tile up a portion of the wall in the tub or shower to create a visual focal point. It's fun to mix and match tiles – some collections offer different shapes, sizes, and colors to help homeowners create a unique look for a personalized bathroom.


Stepless and doorless shower entries are an attractive feature for older adults as well as anyone looking to make the most of limited space. Used in conjunction with glass walls, they provide a more open look with less mass to give the appearance of more space.


Heated floors and towel warmers provide a true spa-like experience. Nothing's quite as nice as grabbing a warm towel and stepping onto a warm floor when you're getting out of the shower. Also, a handheld shower head, two set-ups for a spacious two-person shower, along with body jets and even steam can make every shower a luxury experience.

Separate vanities and a dedicated make-up area provide space for spouses and partners to get ready for their day without jostling for room at the sink. As the bathroom increasingly becomes the room offering the serenity, privacy, and space to prepare yourself for the outside world, it's nice to not feel cramped or rushed.



Free-standing tubs are now back in the limelight for both their dramatic appearance and the luxurious ability to soak away stress that they provide. There are even models available that offer air jets that blow fine air bubbles into the water for a relaxing water massage.


Technological toilets are gaining traction these days. Gone are the old-fashioned, plain-old porcelain bowls. Now toilets offer heated seats, self-cleaning bidet seats (called a washlet), and even sterilizing functions to clean and sterilize your toilet. Needless to say, all this technology can get pricey, but many homeowners love the convenience and ease-of-use. With so much emphasis placed on this central fixture for personal hygiene, many homeowners are now opting for smaller, separate toilet rooms or privacy areas as part of their larger bathroom renovation.

Improved storage is in high demand and for good reason. Many homeowners are sick and tired of the clutter in their bathrooms, with vanities and sink tops crowded with cosmetics and shaving items, stacks of towels jammed into too-small closets, and cleaning supplies spilling out of cabinets. Designers are getting more creative with bathroom design for small spaces, building in more useful shelving; flexible pull-outs for laundry, linens, cleaning supplies, and wastebaskets; as well as other storage systems that eliminate clutter and provide a cleaner, more open look.


Some other popular features finding their way into bathroom renovations of all sizes include:
Music from both wired and wireless systems. Some bathrooms provide WiFi or Bluetooth connectivity to play your favorite music from a personal device while you enjoy some privacy in your spa-like space. Others feature discrete wired controllers and speakers that enable music and intercom communications to be piped in from a central location.

Enhanced lighting to highlight task areas, provide improved safety in dim spots, and set the mood. Hanging pedant lights are popular for their dramatic look and under-vanity lights are favored for making it easier to get ready and look your best without straining your eyes.

New color trends that include cooler color pallets, such as whites, soft blues, and grays. Hardware finishes tend to be black, polished nickel, brushed gold, and polished chrome.
Powder room renovations are in
Remember that room off the kitchen with the washer, dryer, toilet, and sink? That's disappearing fast. It's being replaced by the improved powder room to make guests feel pampered, not put out, forced to use what looks like a utility closet. New designs include features such as custom vanities with pull-out step stools and dramatic vessel sinks that look like they belong in a high-end hotel.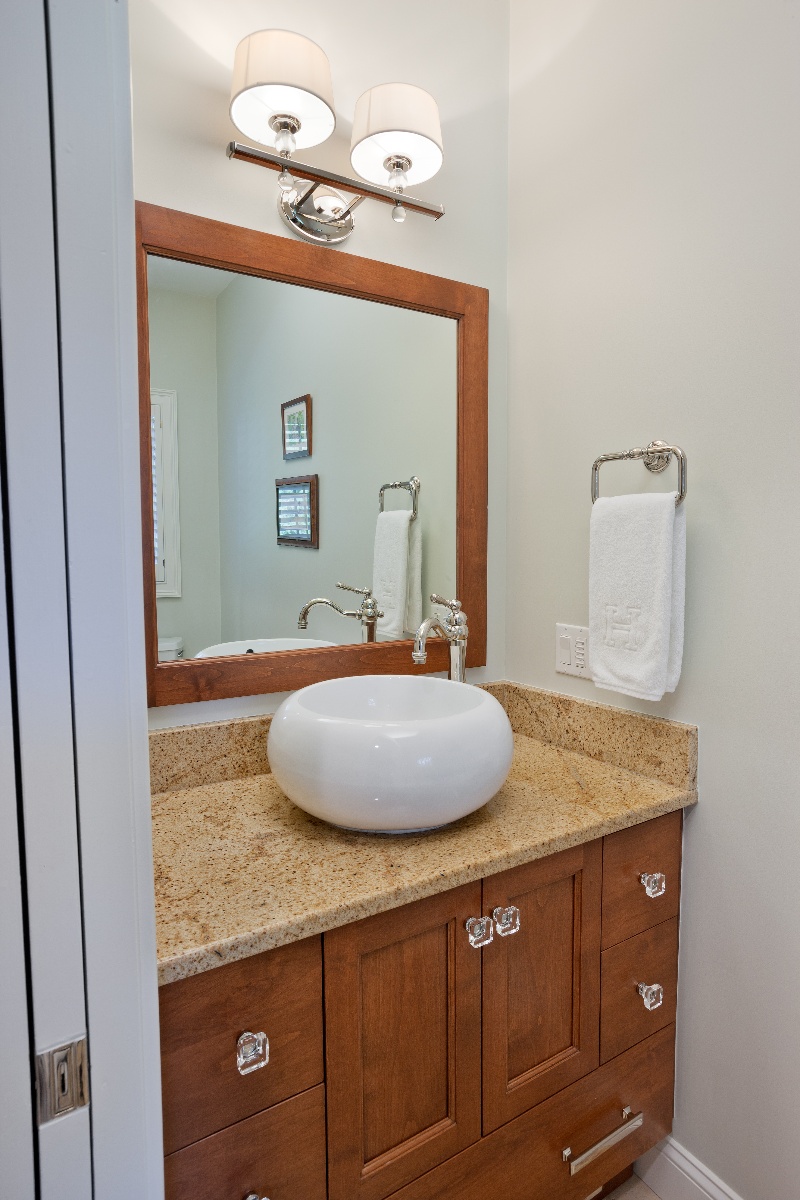 Investing in your bathroom
The latest in bathroom design is increasingly sophisticated, creative, and even technologically advanced to meet growing client demand for the latest in convenience, safety, and comfort. All of this comes at some cost – how much or how little depends on the client's wants, needs, preferences, and desires.
Some might say, "Wow, but this is just a bathroom." And while that may be true to some extent, it's important to remember that the bathroom is one of the most used rooms in the house. It's where you start and end your day. What that experience is like often dictates how positive or negative your entire day is. That's why you want to make whatever time you spend in the bathroom as pleasurable as possible.
The custom nature of the bathrooms we are talking about here is unique design work, where all of the details matter and can make or break a bathroom experience. Bathroom renovations are one of the top home renovation projects. These are spaces and fixtures you use constantly and have not only an impact on how your daily experience, but also have a major impact on resale value. Bathrooms are one of the first things people look at when they walk through during an open house.
It helps to look at a bathroom renovation not as an expense, but an investment. You are investing in the quality of your home, your daily life, and the resale value of your house. Your bathroom is the most personal and private space in your home – don't you want the best you can afford?
Regardless of the size of your bathroom or your investment in it, there's no question that bathrooms are increasingly being transformed into private retreats, designed to offer all the modern conveniences in a spa-like environment. Working with a bathroom design specialist and a good design/build team will help you get the most value out of your investment and the most enjoyment out of your bathroom.